the untold story : i can talk football 24hours/day, sorry, up to u guys to judge, but its of my favourite stuff and it is what i am. wouldnt stop because i love being the 12th man
tiki-taka atau tiqui-taca
tak ramai tahu apa tu, moi la amba nak cite..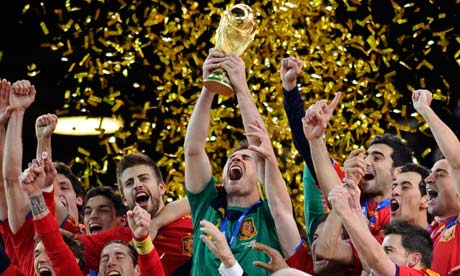 Spain dan FC Barcelona (rata2 player yg sama? mungkin,, tapi hakikat tactic je sama)
korang tahu bahan Barca nie play-act la, duk lepak mamak bising-bising kutuk player apa sumer.
jom dari borak kosong meh kita discuss tactical football sket. at least u got to respect their tiki taka. .
"characterised by metronomic short passing and movement, working the ball through various channels, and maintaining possession "
Tiki-taka adalah gaya permainan yg based on pergerakan ringkas passing ke belakang melalui chanel tertentu dan juga pergerakan mudah. Style short-passing di mana bola bekerja secara slow and in-possesion (holding the ball more) Gaya nie memerlukan kesabaran dan pergerakan di mana pertukaran posisi antara pemain tengah banyak berlaku ; bola bergerak in sharp, one-two passes.
Tiki-taka adalah kedua-dua pertahanan dan serangan dalam langkah yang sama. Maksud nya oleh sebab satu pihak je yang pegang bole, so team tak perlu menuka antara defence dan attack.
apabila satu team menggunakan ideologi Total Football = all player is a defender, all player is a striker
maksud nya, pemain tak stick on one position only. based on generic modern football skang, Barca menggunakan ideologi di mana sumer pemain ada lah midfielder tengah.
defendef-striker---> operates as a midfielder, dorg duduk rapat2 men short passing dan both create chances for others..
*who says there are no art in football? ;)
p/s kadang2 sakit hati jugak kalau mamat-mamat tahu bising tak puas hati team tgh kalah pastu nak balik. wheres the support lads? -.- pastu kalau dah leading mula la puji player sendiri. typical malays..